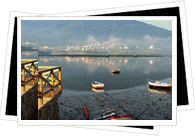 Situated in the northwestern patch of land just above Portugal is the autonomous community of Galicia. With its rainy climate, traditional bagpipe music, rugged coastlines and Celtic heritage, Galicia is a far cry from the so-called quintessential images of Spain. In fact, when it comes down to it, you can think of Galicia like the Ireland of Spain.
While not to the fervent extent as in Cataluña and the País Vasco, Galicia is also known for its regionalist pride. Gallego, the Galician language and co-official language of Galicia, is widely spoken and taught in schools. While it may sound or look like the fusion of Castellano (modern Spanish) and Portuguese, Gallego is actually a direct derivation of Latin and developed simultaneously with Castellano, Portuguese, French and other Romance languages.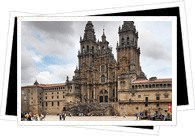 v Between its handful of emblematic Spanish cities - amongst them the final destination of the Way of Saint James, a major religious pilgrimage - Galicia maintains a traditional, rural air. Quaint fishing towns look out upon colorful fishing boats bobbing in the water; traditional villages brim with slate-roofed stone homes; and a mixture of sandy beaches and quiet, hidden coves make for perfect summer refuges.
A huge comeback has had a drastic effect on the now flourishing region. While verdant, lush and fertile, Galicia's history is marked by back to back epochs of poverty and crisis. However, as more travelers uncover Galicia's charm with each year that goes by, tourism is on the rise. No matter where in Galicia you are, be sure to try the fresh seafood- it's considered to be Europe's best!