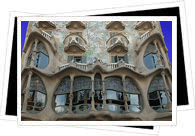 While the majority of Spain's regions have dipped in and out of various crises, Cataluña has long been ahead of the game. In fact, from the arts to commerce, science and even professional sports teams, Cataluña has a history of succeeding at anything it puts its mind to.
Cataluña has long been the hub of sophisticated culture in Spain, having given rise not only to the funky architecture of Modernisme but also to quite the collection of cultural trend-setters, such as Pablo Picasso, Joan Miró, Salvador Dalí and Antoni Gaudí.
Cataluña is not only historically one of Spain's most prosperous regions, but it's also one of the proudest. In fact, most of Cataluña's people classify themselves as "Catalanes" before admitting that they're also Spanish. In addition, Cataluña even has it's own language - Catalán - which is taught in schools and, along with Castilian Spanish, is an official language.
From cosmopolitan gems such as Barcelona to hill-top medieval villages, lush vineyards, soaring mountain ranges and imposing monasteries dating back centuries, it's no wonder that Cataluña is one of Spain's most popular regions.