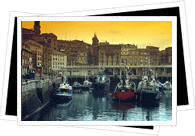 Running along the most easternly stretch of Spain's northern coastline and skimming the French border is the País Vasco (Basque Country), which encompasses the provinces of Álava, Guipúzcoa and Vizcaya. Traveling through the País Vasco may seem traveling through a different country- and truth be told, that's how Basques, many of whom long for a separate Basque homeland, see things. Basques are known for the fervent pride that they take in their unique cultural identity which, frankly, is quite a bit different from the rest of Spain.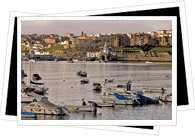 It is widely believed that Basques are the only remaining representatives of Europe's aboriginal civilization, and the Basque language was already fully developed and being spoken when Indo-European languages such as Celtic and Latin began to arrive 3,000 years ago. Today, the extremely complex Basque language, Euskara, is widely spoken and taught in schools and, along with Castellano (modern Spanish), is the region's co-official language.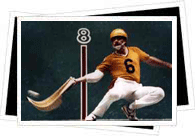 Here in the País Vasco you'll see a wide variety of things that set the País Vasco apart. Along with the language and heritage, they have their own traditional music and dance, their own folk heritage and even their own regional sports. If you're a food or wine lover, the País Vasco not only boasts a cuisine - try the pintxos, the País Vasco's form of tapas - said to be amongst the best of Europe, but it also garners fame as one of Spain's top wine regions.
The País Vasco for the traveler literally has a bit of everything. Beautiful towns are scattered across the countryside, a mix of traditional fishing towns and glittering, culture-packed cities dot the coastline, and the verdant, mountainous terrain inland leads into to the Pyrenees mountain range. Between city-hopping, the unspoiled natural beauty of the País Vasco is ideal for a wide range of activities for nature-lovers and adventurers, such as skiing, hiking and trekking.