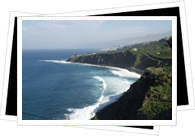 Located a mere 100 kilometers off the northwestern coast of Africa are Spain's paradisaical Islas Canarias (Canary Islands). Set out in the Atlantic Ocean, the archipielago consists of a handful of smaller islands and seven large islands: El Hierro, La Palma, La Gomera, Tenerife, Gran Canaria, Fuerteventura and Lanzarote. In 1982, the Islas Canarias were granted status as one of Spain's 17 autonomous communities and certainly one of its most unique.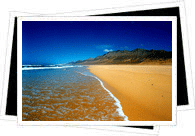 With mild temperatures, warm water and vast natural spaces constantly bathed in sunshine, visiting the Islas Canarias is all about being active and outdoors. Whether staking claim to your own patch of beach to climbing mountains, wind-surfing and scuba-diving, it's impossible to run out of things to do. Explore the islands' vast sandy beaches, hidden black sand coves, fascinating reefs, plunging cliffs, soaring mountain peaks. Plus, due to its volcanic nature the islands boast funky rock formations, craters and volcanic tubes that seem like imports from another planet.
The history and culture of the Islas Canarias is also wildly distinct from that of mainland Spain. The Islas Canarias didn't see Spanish presence until the 15th century, when it was first conquered, colonized and settled. Up until then, the Islas Canarias were inhabited by an indigenous civilization called the Guanches. While the Guanches culture is long gone, their existence has had a lasting impact on everything from the Islas Canarias' architecture to their sports, gastronomy and regional music.
Not surprisingly, the Islas Canarias have become quite a hit amongst travelers from all over the world- particularly sandal-clad, sun-seeking British and German tourists. While you'll find the inevitable over-developed tourist resorts, they tend to be clustered in one area of each island, with the rest full of unspoiled nature, fascinating tropical flora and fauna, and traditional ports and villages brimming with the true Islas Canarias vibe.