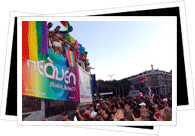 Not so long ago - under the repressive, 35-year dictatorship of Francisco Franco - homosexuality was illegal in Spain. However, Spain's gay and lesbian scene nowadays is lively, well-received and strongly supported throughout the country. In fact, when new laws were drafted and sent to be voted upon, roughly 70% of the population rallied for gay marriage.
The laws and rights (marriage, child adoption, age of consent) of the country's gay and lesbian populations mirror those of their heterosexual counterparts. Much of this progress has come since the 2004 government turnover from the more conservative PP (People's Party) to the more liberal PSOE (Spanish Socialist Workers' Party).
While the gay population in smaller towns still tend to keep a low profile, you're sure to find lively and very "out" populations through the cities, with the the hippest gay and lesbian scenes found in Madrid, Barcelona, Sitges, Torremolinos and Ibiza. The last Saturday in June is pretty much Spain's unofficial "Orgullo Gay" (Gay Pride) day, so get ready for colorful parades, flamboyant performances, blasting music and more!