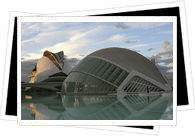 With mild weather practically year-round and warm Mediterranean waters lapping up on to the sand, the long coastal ribbon composed by Murcia and Valencia is virtually a sun-seeking beach-goer's dream. Neighbors Murcia and Valencia occupy some of Spain's most coveted shoreline real estate, wedged between the regions of (from west to east) Andalucía and Cataluña.
The coastline along which Murcia and Valencia run is dotted by an eclectic collection of high-rise tourist resorts, intimate coves, cute fishing towns, sandy stretches of nudist territory, seaside cities and hard-to-reach beaches. Both Murcia and Valencia share a lengthy history, having been passed through Phoenician, Greek, Carthaginian and Roman hands before the whole Moors and Christians debacle. However, the similarities seemingly end there.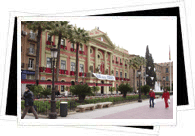 Murcia, tucked into the south east corner of Spain, occupies some of the hottest and driest territory in all of Europe. The region gets around 3,000 hours of sun per year, which is great if you're sprawled out along the water's edge along the aptly-named "Costa Cálida" (Hot Coast). However, venture inland and you'll discover an arid landscape characterized by plains, olive groves and vineyards. However, due to excellent irrigation systems put into place by the Moors, the region is still a major producer of certain fresh fruits and vegetables.
Standing next to Murcia, Valencia composes a major geographical contrast. A rich slab of land called the "huerta" - often considered the most fertile land of Europe - surrounds the region of Valencia with orange, lemon and peach groves and rice fields that are still fed by the Moors' innovative irrigation systems. Across these fertile farmlands, you are bound to see barracas dotting the land. These picturesque farmhouses with steeply pitched roofs are a signature part of Valencia's countryside.
Valencia's cultural scene, shaped equally by the distinct cultures of neighbors Castilla and Cataluña, is one of the most famous in Spain. Not only is it the founding region of scrumptious paella, but it also has a hodgepodge of architectural styles and is home to some of Spain's quirkiest festivals- such as the tomato-hurling La Tomatina and the pyrotechnic party of Las Fallas.