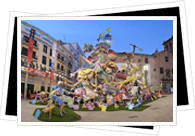 The Spain Top 10
... in no particular order
1. Festivals
From solemn religious processions to massive tomato fights, clamoring bull runs and chaotic pyrotechnics, Spain boasts a jam-packed cultural calendar of some of the world's most unique festivals. Learn more about festivals in Spain.
2. Tapas
Combining the best of two worlds, the tapeo is essentially the fusion of bar-hopping and snacking. Fun and filling, this Andalucía-born gastronomic phenomenon is a great way to taste a wide range of typical Spanish food dishes!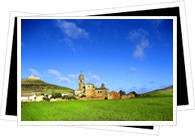 3. Way of Saint James
At well over 1,000 years old, the medieval Way of Saint James (Camino de Santiago) is a religious trek to the world's most visited Christian shrine: the Galician city of Santiago de Compostela. Said to be the resting place of Saint James himself, the city - and its stunning Romanesque cathedral embellished with a sumptuous Baroque façade - has welcomed hundreds of thousands of weary pilgrims over the years. In fact, legend once held that the galactic Milky Way was caused by the dust kicked up by pilgrims' feet! Learn more about the Way of Saint James...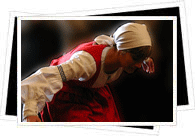 4. Regional Music
Traditional folk music comprises a huge and fascinating part of Spanish regional culture. From the passionate guitar strumming of flamenco musicians to the soulful bagpipes of Galicia, Spain's traditional music is every bit as diverse as the regions in which they're found! Get more info on traditional Spanish music and dance...
5. History
Spain boasts a long and colorful history with everything that a history buff could possible ask for- epic battles, cultural clashes, political strife, world-changing discoveries, epochs of exponential prosperity met with epochs of spiraling decline... the list is endless! Learn more the adventure that is the history of Spain...
6. Terrazas
Forget about ordering coffee in a to-go cup! In an age when international chains are expanding throughout the world, Spain has a laid-back culture full of outdoor sidewalk cafés - or terrazas - ideal for kicking back, sipping on your favorite beverage and watching the world go by.
7. La Alhambra
Emblem of Granada, pinnacle of Islamic splendor, epitome of ramance and mystery... meandering through the exuberant complex of palaces and gardens will transport you back in time to the centuries of Islamic grandeur. Lose yourself amongst paradisaical gardens, sumptuous rooms, bubbling fountains and tranquil courtyards of Spain's most-visited monument. Learn more about Spain's beloved Alhambra palace...
8. Architecture
Architecture lovers will marvel at the unrivalled beauty and preservation of Spain's Islamic palaces, medieval castles, Renaissance mansions, elaborate Baroque façades and funky Moderniste buildings- in Spain you'll see all of this and more! Learn all about the incredible architecture in Spain.
9. Football
On game days, stadiums overflow with boisterous fans, bars - and beer glasses - are filled to the brim and the talk of the town is football, football, football. Football is without a doubt Spain's sport par excellence, so before your Spanish venture begins, read up on one of Spain's most revered activites! Learn more about football in Spain...
10. Museums
Spain offers a virtual smorgasbord of museums where you can brush up on anything from the masterpieces of the 17th century painter Diego de Velázquez to fascinating archaeological finds, the science involved in playing sports, and the life of times of the ever-famous 20th century phenom Pablo Picasso. Learn more about some of Spain's most famous museums.