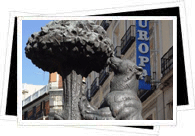 COMUNIDAD DE MADRID
As the political, cultural, intellectual and economic center of Spain, it's only fitting that Madrid - and the region which shares its name - is right smack in the geographical middle of the country. The Comunidad de Madrid (Community of Madrid), one of Spain's 17 autonomous communities, consists of a triangle-like patch of land surrounding the city of Madrid. The region offers tons of day trips to historical cities and monuments around the periphery of the region, but it also serves as the ideal base for a more in-depth exploration of the rest of central Spain.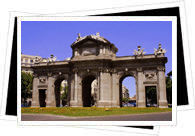 While its name - the Community of Madrid - doesn't show it, there's a whole lot more to this region than Spain's bustling capital city. Nature is one of the area's biggest draws, with mountains lying both to the east and north of the city. Today, nature-loving city-dwellers escape the urban sprawl to go hiking, picnicking and - in the winter - skiing. However, us common folk aren't the only ones who enjoy getting out for some fresh air. It turns out that Spanish royals were apparently tree-huggers themselves, as they had opulent palaces built throughout the region where they could go to relax and commune with nature.
Follow the link to learn all about the most interesting destinations around Madrid in Community of Madrid Highlights!