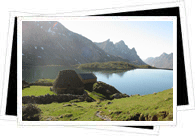 Head eastward of Galicia and into Asturias and Cantabria, respectively. These two regions comprise the central portion of "Green Spain," the country's most verdant zone. Stretching from Galicia to the País Vasco, the warm yet damp climate has given rise to forests and rich vegetation comparable to the Irish countryside. The two autonomous communities boast culture-packed cities, quaint stone villages and elegant coastal towns. Yet, you will find the real charm of Asturias and Cantabiais venturing outside of the city limits- it is called "Green Spain," after all!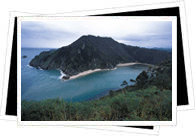 Drama is the name of the game in Asturias and Cantabria. The rugged, unpredictable coastline features seaside cliffs, isolated coves and sweeping views of the Bay of Biscay. Inland you'll find rolling hills and valleys of apple orchards separating green, misty pastures from the snow-capped peaks of the Picos de Europa mountains. As you can imagine, the opportunities for hiking, walking and, in general, immersing yourself in the vibrant flora and fauna of Asturias and Cantabria are endless.
Like Galicia, Asturias was inhabited by Celtic tribes before ambitious Roman Empire extended its way into Spain. In fact, bagpipes - not the flamenco guitar - are an intrinsic to traditional Asturian music. Due at least in part to its mountain-locked situation, it was the one parcel of Spain never to have been taken under Muslim control- a fact that Asturianos are still quick to take pride in. As such, Asturias was also the area to lay the foundations of the rather lengthy Christian comeback, a not-so-simple feat that took 800 years. For this very reason, Asturias is the heart of pre-Romanesque and Romanesque architecture; there is literally no better place to see early medieval buildings and decoration than in Asturias.
The small, neighboring region of Cantabria, while largely overlooked, is easily one of Spain's highlights. Formerly cast aside and grouped into Castilla la Vieja (Old Castilla), Cantabria's creation as one of Spain's 17 autonomous communities has infused it with a new life all of its own .Postcard-worthy landscapes - ranging from mountains to shimmering lakes, meadows carpeted in wild flowers and the breathtaking coastline - set the background for welcoming, medieval towns, typical fishing village and emblematic cities.