Spanish Opera Theater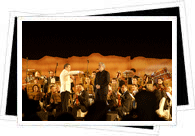 If glamming up for a night of listening to opera stars test the multi-octave range of their vocal chords, Spain won't leave you disappointed. Spanish characters like El Cid and Cármen, international opera competitions like Valencia's Operalia and Spanish opera singers like the wildly famous Plácido Domingo have a huge presence on the international opera stage, so it's no surprise that opera is hugely popular in Spain.
Whiel you can find top-notch opera in Spanish theaters across the country, some of the most famous Spanish opera theaters are the Teatro Real (Madrid), the Gran Teatre del Liceu (Barcelona), the Teatro Maestranza (Sevilla) and the Palau de les Arts (Valencia).
Spanish Zarzuela Theater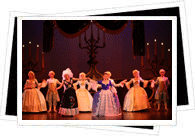 A popular style of Spanish theater throughout the 17th and 18th centuries, zarzuela - one of Spain's most unique theater genres - has enjoyed a huge resurgence of popularity over the course of the past few decades. It emerged as a way to keep King Felipe IV and his court entertained, therefore it comes as no surprise that Madrid is the core of zarzuela theater.
What is zarzuela? Zarzuela is a Spanish theater form incorporating a bit of everything- music, dance, singing, talking - in what could be described as a light opera. Centered around popular Spanish culture, particularly the daily ups and downs of traditional Madrid life, zarzuelas are typically light-hearted and serve as a entertaining glimpse into Spanish popular culture of the 17th and 18th centuries.
You can find zarzuela performances in Spanish theaters throughout the company, but to see the art in its birthplace, head to Madrid's Teatro de la Zarzuela; the theater, built in 1856, is widely known as the place to go.
Spanish Flamenco Theater
Another way to enjoy Spanish theater is though flamenco. It may have flourished in seedy bars and isolated gypsy communities, but nowadays Spanish theater performances are constantly adapted and transformed by flamenco masters into stunning flamenco shows. Major Spanish theaters often put on and sell out flamenco interpretations of anything from classical music to works of Spanish literary giants like Federico García Lorca, Miguel de Cervantes Saavedra and Lope de Vega.