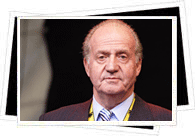 Spain's current government is relatatively new, having been organized from scratch following the 1975 death of Spanish dictator Francisco Franco after a 35-year reign. The Spanish constitution, which bestowed upon Spain a long-awaited democratic Parliamentary Monarchy, was drafted and decided upon in 1978.
Monarchy
The long-standing royal lineage, after the 35-year hiatus, was once again incorporated into the government after a dying Franco settled on Juan Carlos (now King Juan Carlos I de Borbón) to replace him, thinking his chosen protegé would maintain and promote his ultra-conservative ideas.
The king is both Spain's Head of State and its Commander in Chief of Armed Forces, as well the highest representative of the Spain in international matters.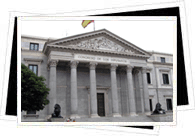 Parliament
On the "parliamentary" end of the government, the elected Prime Minister - along with his hand-picked Council of Ministers - heads up the executive branch. Beneath him and comprising the legislative branch are the two chambers of the General Courts: the Congress of Deputies and the Senate. Each province elects two senators and at least two deputies- after two, however, the amount of deputies in each province is proportional to that province's population.
Spain, while united, is a basically a state composed of a collection of autonomous communities and functions. The country is divided up into 17 autonomous communities, each with their own elections, governments and regional powers. In addition, many have their own educational and health systems, laws, specific cultural identities and even languages with co-official status in their corresponding regions.