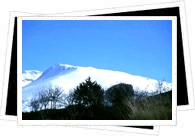 There are few countries that boast a landscape as geographically diverse as Spain. From tropical beaches to verdant hills, plunging cliffs and plains, Spain literally has it all. In fact, Spain is actually the second most mountainous country in Europe, a feature which makes it a prime skiing destination. Get ready to hit the slopes!
Whether you're an novice or a veritable fiend on skis, skiing in Spain is a favorite winter time activity and there are plenty of options dispersed through the country. Nearly 1,000 kilometers of ski trails comprise 36 top-notch ski resorts, 13 of which have been awarded a Q for their unbeatable tourist quality. Not only are Spain's skiing resorts located in various regions of Spain, but they're also easy to get to by bus, train or car.
Skiing resorts in Spain offer their skiers and snowboarders a huge array of unbeatable features. For one, Spain is graced with abundant winter sunshine, which means great visibility and comfortable temperatures- even at the peak! Aside from natural snow, skiing resorts in Spain have excellent snow-making services to ensure the best snow conditions possible. Excellent amenities ensure a great time, such as lessons, snowboarding trails and modern lifts.
Plus, if you hadn't originally planning on skiing in Spain or if you simply couldn't fit your snowboard into your hand luggage, you're in luck! Almost all of Spain's ski resorts offer complete and affordable equipment rental, from skis and poles to coats, gloves and ski pants!
Take your pick and hit the slopes! Skiing resorts in Spain have been grouped into six main areas:
Sistema Penibético: The Sierra Nevada mountain range in Granada.
Sistema Central: The sierras around Madrid, Salamanca and Segovia.
Sistema Ibérico: Mountains in La Rioja.
Cordillera Cantábrica: Mountains along the Cantabrian Coast in Asturias and León.
Aragón: Mountains in the region of Aragón.
Pirineo Catalán: The Pyrenees mountains, espeically in Lleida and Girona.