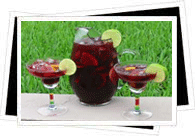 Sangría & Other Mixed Concoctions
Nothing beats sharing a warm evening with friends over a refreshing pitcher of sangría. Typically made with red wine, lemonade, fruit chunks, ice and sometimes - depending on personal preferences - splashes of added liqueors, each restaurant and person has their own personal spin on this delectable and internationally beloved drink.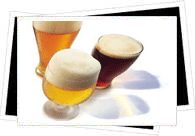 Sangría isn't the only tasty result of Spaniards' experimental take on drink-mixing. Tinto de verano, for example, is a mix of red wine and casera, a cross between lemon soda and tonic water. Calimocho - or kalimotxo as it's called in its native Pais Vasco - is a favorite amongst young people, as it is a cheap yet surprisingly tasty mix of red wine and Coca-Cola. A third simple and light blend is what is known as a clara, which mixes beer and either casera or lemon soda.
In your travels, you may run into more intricate regional mixtures such as Agua de Valencia (orange juice, gin, vodka, sparkling wine, sugar) and Agua de Sevilla (pineapple juice, sparkling wine, whiskey, cointreau, sugar), both of which are served cold in pitchers to be shared.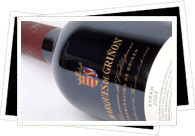 Wine
Whether you're a seasoned connoisseur or just a typical person who loves a good glass of wine, you're in for a real treat in Spain. Over 55 of Spain's wine producing regions have been declared Denominations of Origin, giving the country a shining reputation and putting it in the international wine limelight.
If you want to really delve into wine culture and its intricacies, consider a visit to a few of Spain's many vineyards and bodegas for an educational tour- and probably a generous tasting session! Aside from wine, these bodegas are often hundreds of years old and boast beautiful architecture. From cava - Spain's answer to France's champagne - to fruity whites, hearty reds and the beloved sherry, you're guaranteed to swirl, sip and swish your way to wine heaven.
Finally, did you know that all of the world's genuine sherry comes straight from Spain? In Andalucía you'll find the small city of Jerez - literally meaing "sherry" - which is essentially the head honcho in the small sherry-producing region. Pride of Andalucía, international sensation and the perfect accompaniment to tapas, sherries range from the light and refreshing "manzanillas" and "finos" to the darker and stronger "olorosos" and "Pedro Ximénez."
Horchata de Chufas
Sweet, aromatic and refreshing on hot summer days, horchata de chufas is a milky beverage hailing from Valencia and Alicante. Based on the juice obtained from mashed chufas (tiger nuts), horchata de chufas is one of the many remnants of the Moorish culture of Spain's past. The recipe itself has changed very little, although thanks to technological advancements the traditional mortar and pestle has been replaced by electric blenders.