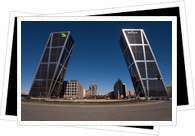 Madrid
While it's not quite as romantic as Sevilla, as hip as Barcelona or as historical as Toledo, there's no doubt that Madrid is the figurative and geographical axis around which the rest of Spain revolves. The city wasn't even the capital of Spain until well into the 16th century, when King Felipe II moved the royal court to Madrid for its central location. Yet the city immediately stepped into the role it was destined to play, flourishing as the seat of culture, wealth and government.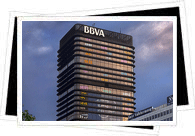 Modern skyscrapers comfortably rub shoulders with wide, tree-lined avenues, imposing Neoclassical buildings and picturesque plazas- not to mention quite the slew of picture-worthy monuments. However, Madrid's biggest draw is its round-the clock energy... particularly once the sun goes down. The city easily has the best nightlife in Spain; not only is it a tapas haven, but it has an eclectic collection of restaurants, bars and clubs that keep life moving until the sun comes up again.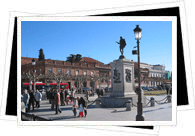 Alcalá de Henares
Not only is Alcalá de Henares home to one of Spain's most legendary universities, but its streets have also been trod upon by literary giant Miguel de Cervantes Saavedra and a slew of his Golden Age rivals, such as Lope de Vega and Francisco de Quevedo. Just 35 kilometers from Madrid, a trip to historical Alcalá de Henares brings you into a small, pretty city graced with Renaissance buildings, welcoming terrace cafés and charming plazas.
Be sure to wander through the Renaissance architecture of the university, which was founded in 1486 and quickly grew to become one of Spain's principal learning institutions. An intellectual, academic vibe still reverberates through the city, created by university students, funky pubs and a distinguished air. Plus, let's not forget to mention Mr. Cervantes himself, to whose childhood home - recreated with period furniture and knickknacks relating to his life - you can pay a visit. Check out the massive collection of Don Quijote editions translated into more languages than you can imagine!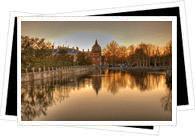 Aranjuez
Aranjuez locals say that their small city is famous for two things: its palace and its strawberries. The Palacio Real (Royal Palace) began as one of palace-loving King Felipe II's summer retreats where he could go to get away from the stress of ruling a kingdom. However, how many summer cottages do you know that were modeled after France's sprawling Versailles? Aranjuez's palace was a favorite destination not only of Felipe II, but also of a long line of Spanish monarchs after him, most notably Felipe V, Felipe VI, Carlos III and Elizabeth II.
It would seem that Spanish royalty dabbled in interior design when they weren't ruling the country, as each monarch who resided here enlarged and embellished the palace to their liking. The resulting 300 exuberant rooms of the palace are complemented by immense gardens, where the royals and their prominant guests could essentially commune with nature without necessarily communing with the common folk.
As for those famous strawberries, one glimpse of the massive "fresones" of Aranjuez will leave you never wanting to bother with a regular store-bought strawberry again. You can purchase strawberries and cream from street vendors in Aranjuez just as vendors in other cities might sell ice cream or candy. Once you've seen the palace and downed your strawberries, enjoy the verdant nature surrounding the city, perfect for walking, hiking and picnicking.
Chinchón
With a look and feel that have remained largely unchanged over the past couple of centuries, Chinchón is a small but charming town of 16th century Renaissance churches, convents and even a castle. For people-watching, the terrazas (terrace cafés) lining Chinchón's peculiar yet pleasant round plaza are perfect for sipping a drink, munching on tapas or just kicking back to soak up the atmosphere. One of the town's most historically important buildings, a former 17th century Augustinian convent, is now a luxury hotel. Even if staying the night doesn't figure into your budget, pop in for a coffee or even for just a peek at the graceful architecture.
Manzanares el Real
There isn't much to distinguish this small mountain town from its neighbors; that is, until you see the jaw-dropping Gothic Castillo de los Mendoza (Mendoza Castle). Looking like it's been taken straight from the pages of your favorite childhood fairytale, the 15th century castle - complete with towers, battlements, archways, defensive walls and courtyards - is easily the best conserved castle in the Comunity of Madrid.
If you're interested in exploring the area, head to the Parque de la Pedriza, a natural park complete with rock-climbing routes, hiking trails and freshwater pools.
El Escorial & Valle de los Caídos
Located in the undeniably cute town of San Lorenzo de El Escorial, the mammoth-sized El Escorial - a combination palace, monastery and mausoleum - is definitely worth a stop. Constructed under Felipe II, who was attracted to the mountainous landscape and cool, fresh air, the imposing and somber construction is the largest building in Spain and was named a Monument of International Interest by UNESCO in 1984. Pay the couple of Euros for the audioguide, which will lead you through elegant hallways, libraries, stunning artwork, lavish living quarters and a jaw-dropping basilica.
Practically a stone's throw away is the Valle de los Caídos, which visitors often tie into their El Escorial visit. The Valle de los Caídos, or "Valley of the Fallen," was a project headed by Spain's 35-year dictator Francisco Franco, supposedly as a memorial to all those who perished during the Spanish Civil War (1936-1939).
However, the controversial monument, consisting of a massive stone cross (you can see it from the highway miles away) atop a bunker-like basilica dug right into the heart of a mountain, takes on new meaning when you find out that it was all built by Franco's war prisoners- many of which did not survive the construction. Take the funicular up the side of the mountain to the base of the cross to really take in the scale of the site as well as incredible views of the surrounding forests and mountains.