Sevilla
Heralded as Spain's most cheery city, the beautiful streets of Sevilla burst with personality, joy and laid-back bustle. As the political, social and economic capital of Andalucía, Sevilla has the shopping, nightlife and amenities of a modern European metropolis. However, it is also easily one of Spain's most beautiful cities; a vibe of tradition and history emanates from every cobbled stone, sweeping red cape, passionate flamenco stomp, wrought-iron lamp post and distant church bell.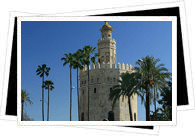 Sevilla is jam-packed with historic buildings - many declared UNESCO World Heritage Sites - that speak volumes about the city's rich Arab and Christian heritage. The beautiful historic quarter, a dizzying labyrinth of narrow cobblestone alleys, adorned courtyards and intimate squares, fans out around two of Sevilla's top sights. Amble through the Múdejar splendor of the Alcázar palace and gardens, then cross the plaza to the jaw-dropping Gothic cathedral- according to recent measurements, it's the largest in the world!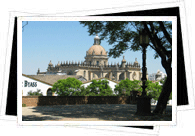 Jerez de la Frontera
The lovely small city of Jerez de la Frontera, along with a beautiful old quarter still surrounded by the old medieval walls, boasts three claims to fame: its famous Andalucían dancing horses, top-notch flamenco and sherry wine. In fact, "jerez" translates literally to "sherry" for a reason! Between the aristocratic Renaissance palaces, typical Andalucían houses, Islamic fortifications and beautiful churches and cathedrals, stop in at any of the city's myriad of wine cellars for tours and generous sherry tasting!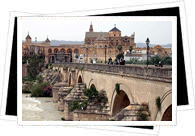 Córdoba (World Heritage City)
Córdoba represents the Islamic empire at the very peak of its splendor and is one of the endpoints of the Ruta del Califato (Caliphate Route). Once the capital of the caliphate, its massive Mezquita (Mosque) - along with its sea of columns, candy cane-striped arches and incredibly ornate Mihrab prayer niche - remains. In fact, it's so big that when the Córdoba finally succumbed to the Reconquest, a full-blown cathedral was rather symbolically plopped right smack into the middle.
After ambling through the incredible Mosque-Cathedral complex, cross the street and lose yourself in the judería (old Jewish quarter). The picturesque maze of alleys and squares is an Andalucían paradise of flower-filled patios, wrought-iron grilles and white-washed houses.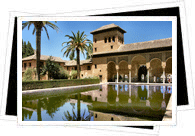 Granada
The second endpoint of the Ruta del Califato (Caliphate Route) and the final Islamic stronghold of Spain's history is Granada. The final years of Spain's Islamic presence were centered in Granada's La Alhambra, the sumptuous complex of palaces and gardens from which the Nasrid dynasty - the very last of Spain's Islamic kingdoms - ruled until finally succumbing to the Reconquest in 1492.
The city of Granada that spreads out below the exuberant hill-top La Alhambra boasts a mixture of cultures: the Islamic quarters of the Moors, the massive late-Gothic cathedral commissioned by the Catholic monarchs Fernando and Isabel, the still-used cave homes of Granada's traditional gypsy population in the Sacromonte neighborhood, and more.
Arcos de la Frontera
Perched dramatically upon a sheer cliff, the town of Arcos de la Frontera is a must-see of Andalucía's famed pueblos blancos (white villages). History and traditional culture are very much alive in Arcos de la Frontera, which also brims with reminders of its rich Islamic heritage. Its steep and narrow streets are flanked by quaint plazas, 13th century basilicas, 15th century castles, Mudéjar towers, Baroque convents and traditional whitewashed houses, their wrought-iron grilles offering glimpses of interior courtyards brimming with potted flowers and ceramic tiles.
Cádiz
Founded 3,000 years ago by the Phoenicians, Cádiz is the oldest city in western Europe and one of the most important of Spain's historical port cities. Crammed onto a peninsula jutting out into the Atlantic Ocean, the city has a unique personality resulting from the fusion of the many peoples who settled here, its ancient history, its commercial importance, its intimate port life and its modern European edge. Along with its beaches and sweeping vistas of the glittering sea, the city's intimate old quarter is ideal for wandering and exploring. Discover Cádiz's winding cobbled streets, blind alleys, pastel-colored façades, laid-back bars and lively fresh seafood markets and soak in the easy-going vibe for which the city is famous.
Vejer de la Frontera
Vejer de la Frontera, a Historic-Artistic Site, is the epitome of a typical Andalucían town. Featuring an 11th-century medieval castle, wrought-iron balconies and romantic street lamps, Vejer de la Frontera boasts a beautiful historic quarter renowned for its Islamic-Andalucían popular architecture. Explore the winding streets, which will lead you through a postcard-worthy potpourri of whitewashed houses, pretty churches and quaint squares.
Ronda
Ronda is certainly one of Andalucía's most unique towns, in that it sits on either side of a narrow, 150-meter deep gorge! Three bridges dramatically span the ravine to link the two whitewashed parts of the town, another of Andalucía's best pueblos blancos (white villages). Founded by the Celts back in the day, Ronda has been inhabited by all the big names of Spain's history: Phoenicians, Romans, Arabs and Christians. Ronda today is a town still boasting a medieval layout with a distinctly Islamic flavor.
Whitewashed houses flank narrow streets, the original walls and gates to the town are still preserved and archetypal examples of Islamic, Gothic and Renaissance architecture can be found in Ronda's aristocratic palaces, mosque remains, churches and markets.