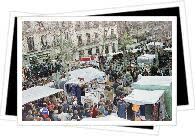 If you're looking for good buys on anything from hand-painted ceramics to leather purses, antique lamps and fresh eggs, Spain has a lively market scene full of mercados (markets), mercadillos (street markets) and rastros (flea markets).
It's all about freshness in Spain's mercados. These bustling markets not only sell the freshest products, but they are also often housed in rather impressive buildings, such as Valencia's emblematic market- a massive, multi-colored Moderniste structure. Head to these covered markets for fresh fruit, vegetables, meat, fish, eggs, cheese, flowers and much more!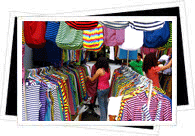 Bargain-hunters need not look further than Spain's mercadillos and rastros. There isn't very much difference between these two market varieties. Both are held on certain days of the week, both take place in public squares and streets with the government's approval and both are open-air markets ideal for good buys on typical Spanish handicrafts. So if you're looking for hand-painted ceramics, leather purses, silver goods or other products without emptying your bank account, head to these fun - and usually crowded - markets.
Mercadillos are often good for buying brand-new products (clothes, shoes, at much lower prices than in mainsteam stores, as vendors often sell goods purchased wholesale directly from the manufacturer.
The rastro market experience is essentially the same, but with the added slew of second-hand goods, antiques, collectors items and things that can only be classified as "random." You never know what little treasures you may come across in one of Spain's weekend rastros, so if you're up for a little perusing, get ready to see anything from old books to second-hand furniture, records from the 1960's and antique camera parts. Spain has tons of these massive flea markets, but to really immerse yourself in a morning of browsing, perusing and price-haggling, head to Madrid's famous Sunday morning El Rastro.