Asturias Highlights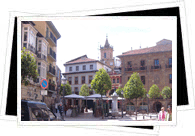 Oviedo
Once the capital of the former kingdom of Asturias, the city of Oviedo boasts a rich architectural heritage that spans virtually the entire history of Spanish architecture. Set to the verdant backdrop typical of Green Spain (España Verde) is Oviedo's medieval-flavored historic quarter, featuring pre-Romanesque artwork, old palaces, graceful convents and an impressive Gothic cathedral. Traipsing around town to see the sights is both pleasant and easy, as almost the entire old quarter - full of colorful houses, terrace cafés and inviting squares - is just about entirely pedestrianized.
Llanes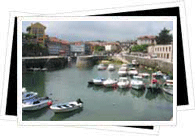 Nestled along the shores of the Cantabrian Sea is the historic town of Llanes- once a prominant Spanish fishing and whaling port. The old quarter, declared a Historic - Artistic Site, is brimming with stellar examples of architecture, ranging from the 300 meters of pre-Romanesque walls to medieval castle towers, 12th-century basilicas and Baroque noble palaces. Add in magnificent beaches and an 800 meter cliff walk with sweeping sea views, and you'll find that Llanes is truly a complete package.
Gijón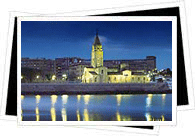 Gijón, the final destination of the ancient Roman Vía de la Plata (Silver Route), is a pleasant town situated picturesquely upon the shores of the Cantabrian Sea. Since its earliest days as a Roman military encampment, Gijón has flourished as a sea town. This seafaring and fishing heritage has left its mark on the town's vibe- especially if you head to the fishing neighborhood of Cimadevilla. Along with stunning views fo the sea, this quaint and historic part of town encompasses a hodgepodge of Roman ruins, large seaside mansions, cute plazas and old traditional fishermen houses.
Luarca
Charming, quiet and truly hidden on Asturia's coastline is the small town of Luarca. The town, built along an zigzagging cove, is a tranquil haven of pretty white houses wedged dramatically between two cliffs. Narrow bridges unite two sides of the town, which is divided right smack through the middle by a tiny, winding river snaking through the center.
Luarca is definitely off the beaten tourist path, making it a nice stop to relax, stroll around and soak up the traditional seafaring air that still permeates the atmosphere. Luarca's highlights include its lighthouse, the Chapel of Atalaya and its chigres - old Asturian taverns serving up Asturias' famed cider!
Cantabria Highlights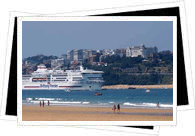 Santander
Draped across a wide bay with views out to the Cantabrian Sea, the popular Cantabrian destination of Santander is a glimmering gem of a city. The city's tourism industry has been alive and thriving for over a century, and a trip to the elegant coastal city is all it takes to see why.
Combining the city's traditional past and with a modern European edge has yielded a city that appeals to all. Old, lively streets mesh with leisurely seaside promenades; Romanesque and Gothic buildings blend into a cityscape of majestic casinos, stately homes and lush gardens; and summering Spanish families effortlessly intermingle with backpack-laden pilgrims making a pit-stop on their trek along the Way of Saint James.
Castro-Urdiales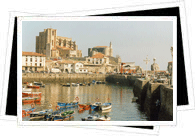 Combining equal parts of rich seafaring tradition and coastal tourism, the village of Castro-Urdiales is one of the most charming stops of Cantabria. A long-time fishing village, Castro-Urdiales has yet to lose its small-town medieval charm. In fact, its historic town center was named an Artistic-Historic monument just a few decades ago.
The quaint, enticing center is a winding web of cobbled streets boasting such treasures as the Gothic Church of Santa María (13th-15th centuries), a unique castle-lighthouse visible from any part of town and characteristic houses with their signature wooden rows of balconies. However, evidence of Castro-Urdiales' lengthy history dates back even further; visit the Roman archaeological site of Flavióbriga or the Paleolithic paintings in the nearly cave of Peña del Cuco.
Santillana del Mar
Taking its name from the Romanesque Church of Santa Juliana around which it extends, the beautiful medieval town of Santillana del Mar - situated along the Way of Saint James - is truly one of Cantabria's best-preserved medieval destinations. The town goes all the way back to the 8th century and represents one of the region's most important historical zones- a facet evident in the town's monuments. Between 14th century defensive towers, Renaissance palaces, Baroque mansions and more, there's no lack of things to see! Plus, just outside of the city you'll find the fascinating Altamira Caves, known as the "Sistine Chapel of the Paleolithic Age"
Comillas
Small, picturesque and surrounded by natural beauty, the coastal town of Comillas appears to be your typical medieval town of cobbled streets, ancestral homes and fortified towers. However, Comillas has a certain something that makes it stand out: Moderniste architecture. Moderniste works, such as famed architect Antoni Gaudí's funky El Capricho, add a stylish edge to the town's ancient streets.