When are Las Fallas?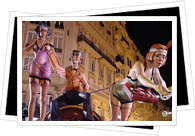 Valencia's world-famous Las Fallas festival begins on March 15th, when creators scramble to erect the elaborate structures in one night, and comes to a pyrotechnic end on March 19th, when all but one of the colorful masterpieces burst into flames- yes, on purpose!
Where are Las Fallas?
Las Fallas - a one-of-a-kind display of blazing towers, exploding rockets, non-stop firecrackers and nightly fireworks - takes place in the Mediterranean city of Valencia.
Las Fallas Traditions: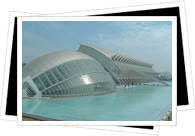 The entire city of Valencia - along with the thousands of visitors that arrive in droves for the spectacular pyrotechnics - gears up for Las Fallas.
While the festival revolves around the fallas and their eventual destruction, Las Fallas is also a first-rate show of regional traditional culture. Valencian women don regional dress, traditional music sets the tone, top-notch bullfights liven the afternoon atmosphere and street parties rage on around the clock- all to a non-stop background of launching rockets, exploding fireworks and popping firecrackers.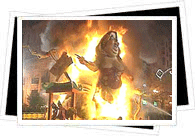 What exactly
are
Las Fallas? Renowned artists, paints, scuptors and architects spend months designing and constructing Las Fallas- no easy feat, as they can soar up to 30 meters tall! Masterfully-created, the colorful fallas - made of papier maché and wood - depict well-known celebrities, politicians and current events of the past year in a famously satirical manner.
The constructors are given exactly one night to fully erect their masterpieces. By daybreak on March 16th, Valencia's public squares and open spaces suddenly become exhibition areas for these incredible pieces of artwork. Three days later - at midnight on March 19th, the Feast Day of San José - the city quite literally lights up.
After working tirelessly for months, the crafty individuals behind each of the hundreds of fallas watch as - to the deafening cheers of thousands - the fruits of their talents and labors burst into flames and eventually meet their end as piles of discarded ash.