When is La Tomatina?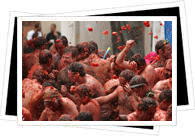 Get ready for the La Tomatina kick into high gear around 11:00am on the last Wednesday of August.
Where is La Tomatina?
La Tomatina, possibly the world's wildest food fight, is hosted by the small Valencian town of Buñol.
La Tomatina Festival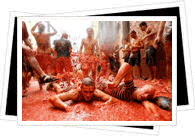 Along with one-of-a-kind festivals like the infamous Running of the Bulls and the Burial of the Sardine, for which people clad in fancy dress attend a satirical burial of a sardine, La Tomatina is one of those off-beat festivals that gives Spain its reputation for quirky traditions.
The tranquil day-to-day life of quiet Buñol is disrupted by the break-out of La Tomatina: a full-out tomato war during which it truly is "every man for himself." Five truckloads (that's about 125,000 kilograms!) of ripe red tomatoes are hauled into the town to the waiting hands of 35,000 people, nearly four times Buñol's normal population of 9,000. The town then engages in two straight hours of non-stop tomato flinging, slinging and hurling.
When the tomatoes have run out and the streets are quite literally painted red, La Tomatina's warriors head off to clean up. Shops, restaurants and homes take down the protective plastic from their façades, the village is hosed down and everything in the normally quiet village settles down and gets back to normal. In fact, it's hard to believe that just a couple of hours earlier Buñol was a chaotic war zone of airborne fresh produce!