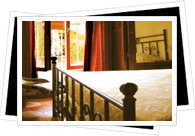 Spain is brimming with budget accommodation, but it's easy to get lost in all of the overlapping and largely interchangeable terminology. So, to avoid any confusion, surprises or rip-offs, here's a quick run down of hostels and other budget accommodations in Spain.
Your cheapest and most basic option is what's known as a "fonda," which you can pick out by the blue sign with a white "F" outside the entrance. Often part of a joint eatery and inn, it's a popular option for backpackers who are just passing through for a night. Not very different are "casas de huéspedes" or "hospedajes," indicated by a blue sign with a white "CH." Casas de huéspedes are like guest houses and are generally used for longer stays.
The next step up - and just a hair under hostel status - are "pensiones." Seek a blue sign with a white "P" for a small, private hotel, which are attributed either one or two stars.
Spain's "hostales" - designated by a blue sign with a white "Hs" - are not the grimy hostels that come to mind upon hearing the word hostel. Instead, think of them as more like small, family-run hotels. Often found in a historic part of town, hostels will more often than not give you a good, clean and functional room that usually has a private shower.
Like hotels in Spain, hostels have a rating system of one to three stars. In terms of prices, a three-star hostel will probably cost you about the same as - if not more than- a one-star hotel, so keep in mind that a one-star hotel might be your best option.