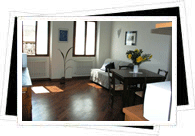 With prices comparable to that of a mid-range hotel, short-term apartment rentals are increasingly popular amongst tourists in Spain. Whether you're planning to stick around for a few days or a few months, consider renting a fully-equipped apartment for the duration of your stay. Instead of living out of a suitcase, settle into your own - albeit rented - apartment where you can spread out, rummage for midnight snacks, save money by cooking your own meals once in awhile and not worry about whether the hotel will wash your favorite sweater without shrinking it!
If you're looking to rent an apartment for an extended stay in Spain, don't rush the process. Take the time to search and compare prices, locations and roommates. Trust us, you don't want to be locked into a six-month lease in an overpriced apartment with a broken stove and a roommate who eats all your food! Keep in mind that unless the ad says "gastos incluídos" (expenses included), you should figure in another 30€ - 50€ for electricity, gas, etc. In addition, to rent a Spain apartment for an extended period you will generally be required to make a deposit of anywhere from one to three months' rent.
To get the search for an apartment to rent in Spain, check out websites like the online community site www.loquo.com, which is much like the United States' craigslist. Another popular site is www.segundamano.es, which also has a printed version available in stores and newspaper kiosks. Using these two resources, you can find a wide range of apartments for long-term rent, short-term rent, shared flats, studios, etc., along with other tid-bits like activities, job postings, second-hand objects for sale and more.