International Bus Travel to / from Spain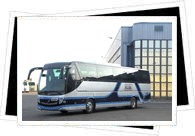 While international bus travel from other European destinations into Spain isn't necessarily the fastest or most comfortable means of travel, it is at times the cheapest and therefore most attractive. The company Eurolines (www.eurolines.es) and its circle of partner companies operates a well-organized and extensive network of international bus routes throughout well over 20 European countries. Also check out the websites for international bus travel routes run by Alsa-Enatcar (www.alsa.es) and Linebús (www.linebus.com).
Bus Travel In Spain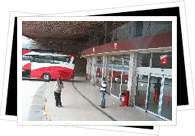 Climbing aboard a bus is one of the most common ways to get from place to place in Spain, especially since Spain's extensive bus network encompasses pretty much every city, town and unknown village in the country. Efficient and cheap, routes range from local routes from village to village to faster intercity connections between major Spanish destinations.
Keep in mind that local routes are usually not geared towards the tourist but rather towards residents of these smaller towns. Therefore, there are usually tons of routes and frequent stops during the work week, with numbers decreasing during the weekend- especially Sundays. However, these local bus routes are often the only means of getting to smaller and less visited towns if you don't have your own set of wheels. Local bus travel is usually extremely inexpensive and you generally buy your tickets right on the bus.
For the most common bus travel routes, you often buy a ticket for the next bus that leaves, meaning you can't always buy a ticket in advance. For longer hauls - especially during peak season - buy tickets in advance since, for example, you probably won't be the only one heading south from Madrid to the coast on a national four-day weekend during the spring. For most of these bus routes, you can estimate the cost of your bus travel in Spain as equivalent to roughly 5€ - 8€ for each 100 kilometers of the trip.
A few tips on bus travel in Spain: It's usually cheaper to buy a round-trip bus ticket rather than two single trips, especially the return-trip ticket doesn't always have to be for a fixed date and time.
Also, in large towns and cities buses generally leave from a bus station ("Estación de Autobuses"), while in smaller towns they often operate from a particular spot in town. Whether it's a street corner or a plaza, these spots are often unmarked, so just ask the locals and they'll be happy to either point you in the right direction or lead you there themselves!
Bus Travel in Spain: Major Bus Companies
Below you'll find a list of the most important bus companies in Spain. In addition, Spain has hoards of smaller bus companies that serve specific regions of Spain, such as Castromil (www.castromil.com) in Galicia, Damas (www.damas-sa.es) in Andalucía, or Pesa (www.pesa.net) in the País Vasco (Basque Country). If you're planning on travelling through Spain by bus, check out websites like Movelia (www.movelia.es), which encompasses tons of bus companies into one comprehensive search for bus routes, tickets, bus stations and other information about bus travel in Spain.
>