Air Travel to Spain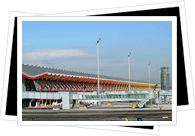 One of the most common ways of getting to Spain is, not surprisingly, via the skies. Direct flights connect Spain's main destinations with major destinations throughout Europe- especially with the booming low-cost airline industry - and even North America.
The Aeropuerto de Madrid-Barajas (Madrid-Barajas Airport) is not only Spain's busiest airport but also serves as the main gateway into the country. Madrid is followed by Barcelona's Aeroport del Prat, Mallorca's Son Sant Joan Airport, Málaga Airport and Gran Canaria International Airport, all of which operate constant international flights.
Air Travel in Spain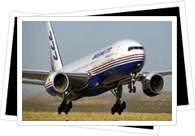 Spanish airline Iberia (www.iberia.es) dominates Spain's domestic air travel scene, receiving some competition from the smaller independent airlines Spanair (www.spanair.es) and Air Europa (www.aireuropa.es). In addition to international flights, Iberia covers pretty much all of Spain.
However, if you're planning on hopping around Spain via air travel, there are tons of smaller airlines based in certain regions of Spain, such as Air Asturias (based in Asturias), Aerolíneas de Baleares (based in the Islas Baleares / Balearic Islands) and Binter Canarias (based in the Islas Canarias / Canary Islands).
In addition, low-cost airlines also have a presence in Spain's air travel scene and are increasingly popular for both national and international air travel. Check out air travel fares with airlines like the fairly new and extremely popular Barcelona-based Vueling Airlines.
Air Travel in Spain - More Information
To get more information about specific Spanish airports, airlines and flights, check out AENA's website (www.aena.es). AENA (Aeropuertos Españoles y Navegación Aérea) is a state-owned company that owns and manages all of Spain's airport and provides tons of services and information.