Metro Systems in Spain
Fast, reliable and impeccably organized, metro and above-ground streetcar systems in Spain are on the rise. While the most notable metros in Spain are the extensive systems of Madrid (12 lines) and Barcelona (9 lines), you will also find smaller metro or streetcar networks in cities such as Valencia (4 lines), Bilbao (2 lines) and Alicante (3 lines).
There are also several emblematic cities in Spain with their own metro systems in various stages of planning or construction, with completion set for within the next five years. Cities with metro systems in the works are are Sevilla (5 lines), Bilbao (2 lines), Málaga (6 lines), Palma de Mallorca (1 line), Granada, Murcia and Santander (5 lines).
Urban Bus Systems in Spain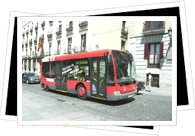 Getting around Spain's cities is extremely easy, as the Spanish appear to be quite the experts in the realm of public transportation. The majority of Spain's cities and towns - even the cities with metro systems - have great bus systems with tons of routes and a veritable fleet of constantly running buses that will get you from and to anywhere in town. To map out your route, either pick up a bus map from one of the many bus kioks or just check out the maps normally posted at bus stops.

Taxis in Spain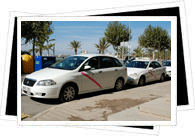 There are always times - be it do to rain, an overload of suitcases or needing to get home at 5:00am after a wild night on the town - that hailing a taxi is the best option. Taxi companies are plentiful throughout Spain and it's usually fairly easy to track one down. To catch a cab, either look up and jot down taxi companies' phone numbers or head to one of the myriad of taxi stands, marked by a white "Taxi" sign.