Train Travel in Spain
One of the most classic, scenic and affordable ways to travel around Spain is via its extensive railway system. Spain's national railway operator, Renfe (Red Nacional de Ferrocarriles Españoles) runs the country's massive network, which consists of an impresive 15,000 kilometers of railway. Along with intercity routes, 11 metropolitan areas have commuter train travel systems which also fall under Renfe's jurisdiction.
Do you have an opinion about your time in Alicante whether it be a great experience in one of the museums, a delicious meal that can't be missed or a day trip out to one of the neighbouring towns, if so then don't be shy and get involved with everything there is to know about Alicante Spain.
AVE High Speed Train Travel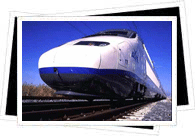 In addition, Renfe has also been operating Spain's exponentially expanding high speed train system known as AVE (Alta Velocidad Española - Spanish High Speed). The first route running between Madrid and Sevilla was inaugurated in 1992 and delighted travelers with the trains' 300 km/h speeds that cut the travel time between the two major cities from six hours down to a mere two and a half. Following its inevitable success, a slew of new routes were almost immediately planned and added.
Currently, the AVE network consists of eight lines that primarily link Madrid with the south of Spain. However, high speed train travel will soon extend through the rest of the coutnry, as tons of routes are currently in various stages of planning and construction. The completion of the highly anticipated route between Madrid and Barcelona is on the horizon, and soon the AVE network will extend throughout the rest of Spain to include the regions of Galicia, Castilla y León, Cataluña, Castilla la Mancha, Extremadura, the País Vasco and beyond.
Spain's government aims to have 7,000 kilometers of operational high-speed rail by 2010 and 10,000 kilometers by 2020. Adding in operational train travel links with France, Portugal and Morocco, Spain's train travel network is on track to become the most extensive in Europe
Renfe & AVE Train Travel Info
Tel: 902 24 02 02 (information & reservations)
Tel: 902 24 34 02 (international information)
Website: www.renfe.es (Prices, routes, timetables, etc.)
Website: www.altavelocidad.org (Info about AVE projects & progress)