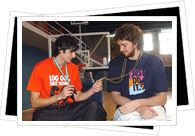 While football has long been the dominating force in Spain's sports scene, basketball ("baloncesto," in Spanish) fever has been giving football a run for its money. Spain's ACB (Asociación de Clubs de Baloncesto) is not only the top competitive basketball league in Spain but is also considered to be one of the best in the world behind the NBA. Plus, with Spain-bred NBA superstars like Pau Gasol turning heads and creating even more hype in Spain's basketball scene, Spain has been garnering much more international attention.
Spain's ACB basketball league, organized and regulated by FIBA (International Basketball Federation), consists of 18 professional basketball teams. Each team up against every other team twice - once at home and once away - for a combined 34 season games. The team that comes out with the most victories at the end of Spain's basketball season wins the ACB and is a shoe-in for national tournament play.
Spain Basketball Tournaments
ACB: Season-long tournament
Copa del Rey de Baloncesto: National tournament between Spain's top eight basketball teams.
Supercopa de España de Baloncesto: National tournament between ACB winner, Copa del Rey winner and two other top teams.
FIFA World Cup: International tournament held every four years.
FIBA World Championship: International tournament every four years.