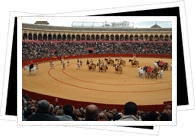 The history, the music, the pageanty... ironically, one of the most intrinsic facets of Spain's culture is also one of the most controversial. Bullfighting is right up there with tapas, sangría and flamenco on the checklist of Spain's so-called "traditional" elements. The event essentially comes down to a performance between a highly trained professional "torero" (bullfighter) and a bull, whose fate is pretty much sealed before he even enters the arena.
Bullfighting season in Spain lasts from March to October and is often a featured part of local festivals. If you're looking for the heart of bullfighting, head to Andalucía, where many of Spain's most famous bullrings are found in cities and towns like Sevilla ("La Maestranza"), Málaga ("La Malagueta") and Ronda, where you can take in the action at Spain's oldest bullfighting venue. Not surprisingly, many of Spain's most revered bullfighters - whose celebrity status rivals that of royals, actors and other common tabloid subjects - are also products of Andalucía.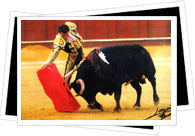 A traditional bullfight in Spain - known as a "corrida de toros" - consists of three bullfighters, each of whom performs twice. The highly ritualized event has three parts, with a trumpet announcing each part's commencement. The first part features the "picadores" (lancers on horseback), the second part features the daring "bandilleros" (flagmen) and for the grand finale the "torero" finally emerges, sporting one of the famously shiny, skin-tight "suits of lights" and wielding a sword and scarlet red cape.
The bullfight comes to an end when, having pleased - or, in some cases, angered - the crowd with his close-range and ideally confident and graceful maneuvers, the "torero" wraps things up with a well-placed sword.