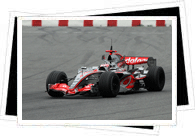 Thrilling, competitive and undoubtedly noisy, Formula 1 car racing is one of those high-intensity sports guaranteed to keep you perched on the very edge of your seat. The roar of revving engines is practically deafening as sleek cars carrying daredevil drivers fly around circuits at speeds up to 300 km/h (190 mph)!
Formula 1, an international competition, is the top-notch level of auto racing and is both organized and controlled by governing body the Fédération Internationale de l'Autombile (FIA). Not only is it the world's most expensive sport, but it's also one of the world's most popular; while Formula 1 is most popular in Europe, people throughout more than 200 countries tune in each week of the season to watch the world's top drivers battle it out at circuits around the globe.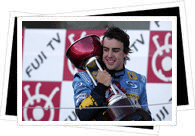 With Europe as its main market, Formula 1 racing has always had a steady fan base in Spain. In the last couple of years, however, a young maverick by the name of Fernando Alonso has been causing quite a stir. In fact, Formula 1's popularity in Spain has quite literally skyrocketed.
Alonso first turned heads when, in 2003, he became the youngest driver to achieve a Formula 1 pole position at the Malaysian Grand Prix. Just a few months later, he became the youngest driver ever to win a Formula 1 race when he drove to victory at the Hungarian Grand Prix. His international fame was set in stone in 2005 when, at the tender age of 24, he became the youngest Formula 1 champion in history.
Formula 1 races are shown on Spanish television channel "Telecinco," but if you want to be a part of the live action you'll have to act fast, as the major international Formula 1 races consistently sell out weeks before the season even starts. The Formula 1 comes to Spain twice a year for the Spanish Grand Prix in Barcelona and the European Grand Prix, held at a new circuit in Valencia.
Another option is to hit up the F-3, essentially the Spanish breeding ground for the Formula 1's up-and-coming stars. Popular F-3 circuits in Spain include those in Valencia, Madrid and Albacete.