When is Carnival?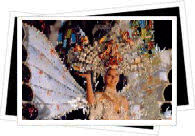 The chaotic craze of Spain's Carnival kicks into high gear sometime in February or early March, just before the onset of the 40 days of Lent.
Where is Carnival?
Many cities throughout Spain glitz it up for their own Carnivals, but Santa Cruz de Tenerife (Islas Canarias) is without a doubt Spain's Carnival capital! However, if getting off mainland Spain doesn't quite figure into your itinerary, the coastal city of Cádiz (in Andalucía) is the very next best thing.
Carnival Traditions: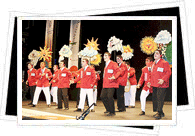 Carnival in Spain's Canary Island city of Santa Cruz is, in the simplest terms, a celebration of joy, personal expression and indulgence. It's about poking fun at popular characters, public figures, situations, institutions, politics and events in a light-hearted but ever-satirical manner through songs and costumes. It's about throwing out your inhibitions and becoming what, on a normal basis, you aren't; costumes, masks, risqué themes and cross-dressing are, for example, part of what makes Carnival such an exciting spectacle.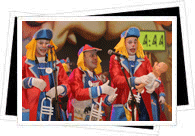 The city of Santa Cruz shifts gears to host the annual Carnival mayhem. Weeks and months are spent designing costumes, preparing musical acts and anxiously awaiting the festival that in recent years has even been considered as wilder than the Carnival in Brazil's Rio de Janeiro! Towards the beginning of Carnival is the annual election of the year's Carnival Queen, along with her "court", from the most beautiful girls. Just wait and see the elaborate, glittery 100 kilogram (220 pound) costumes these girls wear- or better yet, are placed into - for the parades!
During Carnival, performers fill the streets, music electrifies the air, glitzy costumes delight the spectator and annual competitions - honoring costumes, high fashion and various performance groups called "murgas," "rondallas," and "comparsas" - ensure that each year is somehow bigger, better and more spectacular than the year before. Festive parades snake rambunctiously through the streets, showing off elaborate floats, humorous performers, energetic dance troups and literally thousands upon thousands of people decked out from head to toe in costume.
Let's not forget the parties! A huge part of Carnival is partaking in the excess of everything - food, drink, noise, having fun, etc. - so it's no surprise that Santa Cruz becomes a 24-hour party zone!