When are Las Hogueras?
Pencil June 20th through June 24th into your calendar if you plan on experiencing the annual festival of Las Hogueras de San Juan.
Where are Las Hogueras?
While celebrations and beach bonfires ("hogueras") to celebrate San Juan pop up all over Spain, the Mediterranean city of Alicante is the place to be.
Las Hogueras Traditions: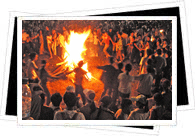 Las Hogueras, Alicante's most important festival, quite literally launches into action. Fireworks set off from the Castillo de Santa Bárbara, the sprawling castle which has looked over the city for centuries, get the fiestas started with a bang.
The most famous part of Las Hogueras de San Juan is, not surprisingly, the 88 blazing "hogueras" (bonfires). Nowadays, these hogueras are detailed, colorful works of art constructed of wood and papier maché reminiscent of the massive towers of Valencia's Las Fallas. Traditionally, however, they were nothing more than piles of old junk and furniture collected during spring cleaning.
In Alicante, the "hogueras" light up the night one-by-one to the cheers of thousands, while smaller bonfires built by groups of friends dot the endless stretches of beach and reflect in the lapping waters of the Mediterranean. The night boasts a magical atmosphere full of legends and superstitions- if you want to live the full experience, jump seven times around the flames and take a quick dip in the water!
While the bonfires eventually die down - today with some help of the local firemen - the Las Hogueras festival is far from over. The party continues for several days and nights as rockets blast off, fireworks illuminate the sky, parties keep the atmosphere lively 24 hours a day and parades snake noisily through the streets.